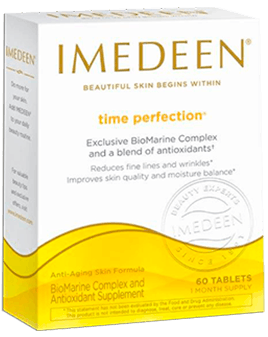 IMEDEEN Time Perfection anti-aging skincare formula builds on the strength of Derma One with even more nutrients, to help combat visible signs of aging in your skin.
Commonly used by people who are 40+, Time Perfection not only features our BioMarine Complex, it also contains naturally derived tomato fruit and grape seed extracts. Nutrients from this unique formula build up in your skin for greater defense from oxidative stress, helping to repair fine lines and wrinkles.*
In as Little as 12 Weeks1,2
You may notice a visible reduction in fine lines and wrinkles and softer, smoother, more supple skin. In addition, you'll enjoy improved skin quality and healthy skin balance. Enhance your beauty routine with IMEDEEN Time Perfection and start to build your beauty from within*.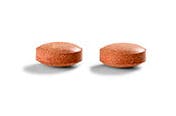 Reduces the appearance of fine lines and wrinkles*
Improves moisture balance*
Helps protect collagen and elastin fibers against oxidative damage with key nutrients*
Makes skin on face and body feel softer and more supple*

In your 40s, fine lines around
the eyes and mouth may deepen
Skin begins to lose moisture
Fine lines can become more visible
On the inside, the collagen and elastin support network start to break down
Skin's ability to retain moisture decreases and there is often clear evidence of UV-damage with visible freckles and sun spots
Renew your beautiful skin. Start today.
1. Heule, F. The improvement of the consequences of cutaneous aging, a double-blind analysis of the effects of the marine protein formula IMEDEEN. Journal of the European Academy of Dermatology & Venereology, 1994, 3, 224
2. Stephens TJ, Sigler ML, Herndon JH Jr, Dispensa L, and Le Moigne A. A placebo-controlled, double-blind clinical trial to evaluate the efficacy of Imedeen Time Perfection for improving the appearance of photodamaged skin.