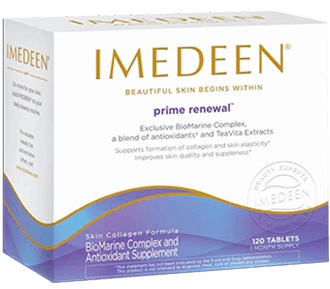 IMEDEEN Prime Renewal is our most robust anti-aging skincare formula, made for skin defense systems that have diminished with age.
Commonly used by people who are 50+, Prime Renewal incorporates all the strengths and ingredients of Time Perfection, but with even more BioMarine Complex and a combination of tea extracts and vitamin E to further protect skin cells from oxidation.*
In as Little as 12 Weeks1,2
You may notice improvements in skin elasticity, reduced appearance of fine lines and wrinkles, and hyper-pigmentation of face and hands. Enhance your beauty routine with IMEDEEN Prime Renewal and start to build your beauty from within*.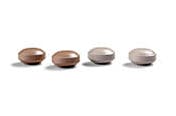 Supports normal collagen production and renewal of skin cells*
Reduces fine lines and wrinkles and maintains skin firmness*
Helps protect collagen and elastin fibers against oxidative damage with key nutrients*
Makes skin on face and body feel softer, smoother, and more supple*
In your 50s, reduced collagen production accelerates the signs of aging
Your skin becomes more susceptible to free radical damage and age spots
Fine lines and wrinkles increase as skin loses underlying fat
On the inside, skin loses 30% of its collagen in the first 5 years after menopause. This decreases skin quality and causes the epidermis to be thinner and less resilient
Renew your beautiful skin. Start today.
1. Heule, F. The improvement of the consequences of cutaneous aging, a double-blind analysis of the effects of the marine protein formula IMEDEEN. Journal of the European Academy of Dermatology & Venereology, 1994, 3, 224
2. Stephens TJ, Sigler ML, Herndon JH Jr, Dispensa L, and Le Moigne A. A placebo-controlled, double-blind clinical trial to evaluate the efficacy of Imedeen Time Perfection for improving the appearance of photodamaged skin.